A Real Christmas Tree is the Right Choice for Nature
We love trees. They clean our air and water, store our carbon and lend a hand in creating many of the things we depend on, like our homes and furniture.
So does it make sense to cut one down and bring it in to your home for the holiday season?
If you're on the side of nature — yes it does.
Here's why:
Real trees grow in the ground for several years before they are cut (a rule of thumb is about one year in age for each foot of tree height), helping mitigate climate change by absorbing CO2, and helping keep our air and water clean and providing habitat for animals.
Thirty million trees are harvested annually for Christmas, out of the 350 to 500 million growing on tree farms across the country. As each year's trees are harvested for sale, there are more than 10 times as many left standing.
A tradition of buying real trees keeps tree farms in business — and their lands covered in forest. The vast majority of Christmas trees today come from farms in the U.S. And for every tree they sell, farmers will plant one to three seedlings in its place, ensuring the sustainability of this industry.
Conversely, about 10 million artificial trees are purchased each year. 90 percent are shipped to the U.S. from China. Artificial trees are not recyclable. In fact, most are made from a kind of plastic called polyvinyl chloride (PVC), which is derived from petroleum.
Local Options:
The Adopt A Stream Foundation is selling "live and wild" trees at the Northwest Stream Center at McCollum Park south of Everett, Washington. They have a great selection of live, 3- to 5-foot trees you can buy to take home for the holidays. Return it afterwards and it will be properly planted by a local stream to create habitat for salmon. You must make a reservation on the Web site to pick up a tree.
The Cle Elum Kiwanis will be selling trees they collected from Conservancy land in the Central Cascades Forests. Money raised by Kiwanis goes to support youth activities in the Cle Elum region.
Christmas tree collection on Conservancy land is for nonprofit groups by permit only, not for individuals. However, the neighboring Okanogan-Wenatchee Forest sells permits for individuals and families to collect trees. Not in Central Washington? Try any of our National Forests. Check in at your nearest Ranger Station to learn more.
Have a fourth-grader in the family? Through the federal government's Every Kid In A Park program, you can get a free permit to collect a tree on national forest land.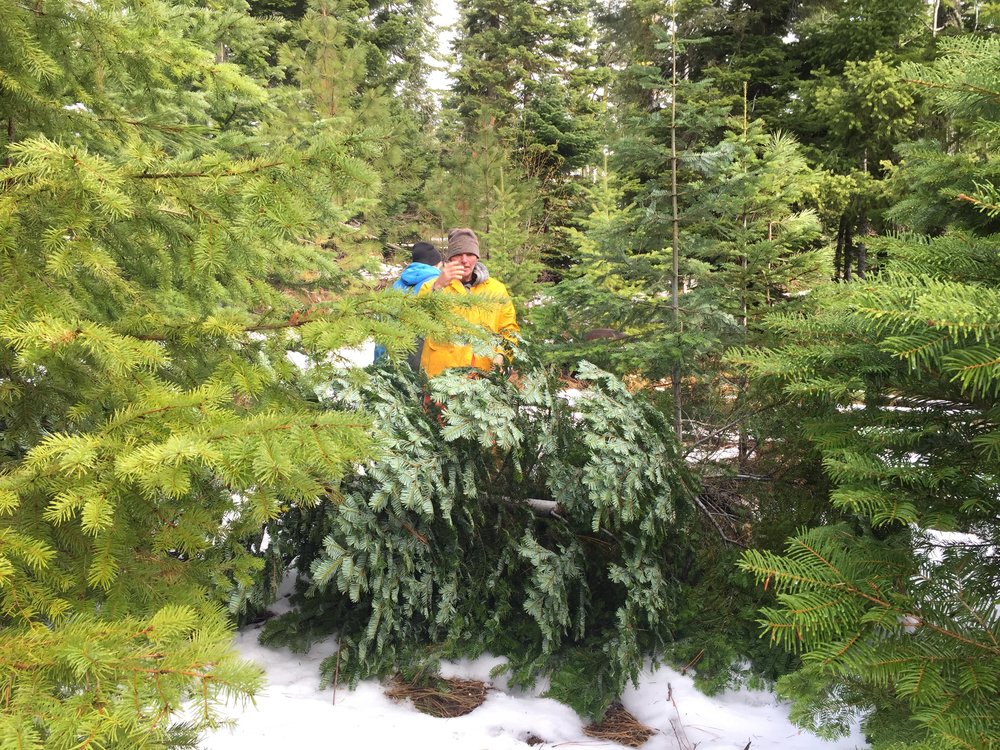 Washington also has a wealth of cut-your-own tree farms. Find one near you.
Want to make your already green tree choice even greener?
Use LED lights — they'll use as little as 10 percent of the electricity and last for years.

Pass up the non-recyclable tinsel and make garland out of popcorn and cranberries.

Keep using heirloom ornaments year after year, but if you're still looking to fill some space on the tree, you don't have to go the store-bought route. Try turning holiday cards or your child's artwork into ornaments. Or go for a walk to collect pine cones or seashells and decorate with glue and glitter.

If you are planning to purchase ornaments, choose wooden ones over plastic. When you travel during the year, pick up a painted wood ornament from the destination you visit. Soon you'll have a collection of ornaments that brings back memories of trips with friends and family.

Recycle your Christmas tree. In King County, you can find lots of options here. Or check your own local resources on the Web or in the newspaper.
Read More Christmas Tree tips!
---